Teaching information and download centre
---
Teaching information and download centre
Computational methods in engineering geology
---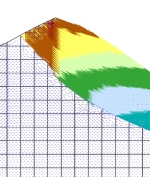 BOKU 872.006 UE2 SS2018 2017 2016 [In German]
Martin Mergili and Christian Zangerl
In engineering geology, computer models are often employed to analyze or to predict the stability of a given slope, or the propagation of landslide processes. Computer models may assist in assessing the current state and in anticipating the occurrence and characteristics of possible future processes. Model results may represent a basis for risk management. This course introduces to the key aspects of computer modelling in engineering geology, with a strong focus on landslide processes.
The course largely follows a concept of learning by doing. After a general introduction, the various aspects of modelling are elaborated by introducing step-by-step solutions of selected real-world examples. Even though the course is coupled to specific software, it introduces general skills which can be applied with various tools. It also attempts to convey a feeling for which methods are appropriate for which types of tasks. At the end of the course the participants will
know some relevant software packages for modelling of mass movements and their scope of application;
be able to apply computer models in an independent and responsible way;
know about the possibilities to develop their own model applications;
be able to design simple model applications by themselves;
be able to critically evaluate model results.
Some basic geotechnical knowledge and computational skills are expected from the participants.
Further information on the course in BOKU Online
---